In this update….
Welly Tech: Drink or Drive, but you gotta Dunk! – Did we catch you on film?
Tax Agents: Talking to ATAINZ – Watch our informative presentation.
Real Estate Agents: AML is coming 1st Jan – Find out more.
Media & Events: Get up to date – Read our press & find out what 2Shakes has been up to.
2Shakes is going South: We are going to Nelson. Come, meet us, ask questions.
Welly Tech
WellyTech is an end of year celebration of all the technology that comes from the Wellington region in NZ from Access Granted. This years WellyTech was the biggest yet and was held at Westpac Stadium. 2Shakes had a stand between BossPac and Whare Hauora.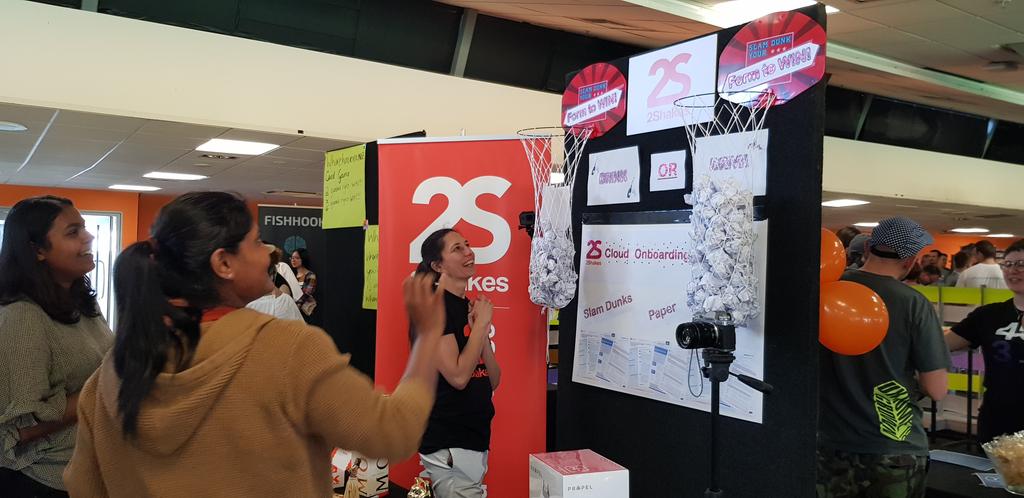 FIGURE: Taking a shot – slam dunking forms.
In keeping with the fair ground theme, we had a Drink OR Drive competition, involving Dunking your paper forms (a subject very close to our hearts).  You could win either a bottle of champagne (drink) or a Star Wars Drone (drive). But NOT both!


FIGURE: Welly Tech was well attended by members from Star Wars empire, all hoping to win the 2Shakes Star Wars drone!
We filmed a time lapse video of the whole night. Check it out and see if you can spot yourself taking a shot!
Dylan was the lucky winner of the Drone and Dr Will Koning won the Champagne.  We caught up with Will who works for Kantar as the Chief Data Officer supporting Kantar's operating brands Colmar Brunton and Kantar TNS. Will helps his clients get the full value from their data by turning data into insights that drive growth, cut costs and improve outcomes. Nice!
2Shakes with AML 
…for Tax Agents
2Shakes is onboarding software that helps financial professionals sign up clients, get authority to act, perform AML customer due diligence and use blockchain security for their client agreements. We presented on our AML extensions to members of the Accountants & Tax Agents Institute of NZ in Palmerston North. Watch our informative presentation here.
…for Bookkeepers
2Shakes had a fantastic time in Christchurch this November talking with lovely bookkeepers.


FIGURE: Mike takes a selfie at the Christchurch meet up for NZ Bookkeepers Association (ICBNZBAI).
…for Accountants
AML/CFT phase 2 for accountants came in October. We have had a large uptake of accountants using 2Shakes to onboard and do AML CDD checks. 

FIGURE: Ata talking in Tauranga to accountants from Chartered Accountants Australia & NZ (CAANZ).
…for Real Estate Agents
Real Estate Agents need to comply with AML from January 2019.  This means that Real Estate Agents need to have completed AML Customer Due Diligence (CDD) checks on their customers before they can sign their agency agreement (listing authority). The CDD checks must be completed on all the owners of the property or a properly authorized signatory (for example, a solicitor or family member with power of attorney). If the customer is a company, trust or other legal entity then CDD checks are needed for beneficial owners too.
2Shakes are working with Real Estate Agents.  We help by providing clever NZBN integrations with Companies Office to help identify beneficial owners. 2Shakes does electronic identity verification as well.  Our cloud onboarding software lets Real Estate Agents securely store all the CDD & risk assessment records so that they can produce reports and statistics for audits and annual reporting. With the first of January coming we are seeing more real estate agents find 2Shakes, mostly by referral.  If you know any real estate agents we would appreciate it if you can let them know about 2Shakes so we can help them too.
amlhome/ 
Media & Events
Digital Identity – Lightning Lab GovTech: 2Shakes were proud to have helped with the Digital Identity project as part of Lightning Lab GovTech.  Find out about SuperSmooth and the other 12 innovative public sector projects and watch their pitch videos from The Embassy in Wellington during the November Demo Day here.

FIGURE: The Lightning Lab Cohort for 2018 – top marks if you can spot Ata (to the lower right hand side of Sally in the Green top).
High Tech Awards: 2Shakes attended the Wellington launch event of the NZ High Tech Awards. 2Shakes learned A LOT from Linda Jenkinson and the panel who were very inspiring.
Going South – Will we see you here?
2Shakes are heading to the top of the South Island early next year.  
NZ Bookkeepers (ICBNZBAI)

2Shakes will talk to members from the Institute of Certified NZ Bookkeepers in Nelson in March. If you are a member in the top of the South Island please come along – we'd love to see you there.  We will be talking about how to streamline your onboarding process, get clients set up and all things AML CDD. 
Accountants & Tax Agents (ATAINZ)


2Shakes have a booth at the ATAINZ (Accountants and Tax Agents Institute of NZ) annual conference in Nelson.  If you are a tax agent, then now is an excellent time to sort out your client onboarding, engagement letter, terms and conditions, services fees and AML Customer Due Diligence.  With 2Shakes you can sign up clients quickly and easily – all online.
Work with 2Shakes. Grow your customer base. Make 2019 your best year yet!